Ottawa Master House Painters and Renovators
28 YEARS EXPERIENCE
Abretti Painting & Renovations Ltd. was founded by Corrado Abretti after many years of training by European master painters. We serve the Ottawa area and beyond and are specialized in high quality residential painting (interior or exterior), wallpaper installation and a broad range of home renovations enabling you to customize your space to reflect your unique style. We take pride in advanced workmanship and meticulous attention to detail and are experts in assessing what specialty tools and products will be needed to ensure you get the best possible result.
FULL SERVICE TO OTTAWA CLIENTS
Our turnkey, full painting and renovation service will allow you to implement your interior design vision with ease. We can take on painting and carpentry enhancing your home with columns, wainscoting and crown mouldings. We can renovate your closets, build custom cabinets or fireplace mantels, finish your basement or alter an existing space to meet your specific needs.
Before commencing a project we will sit down with you to provide a free consultation and recommendation that will include detailed price estimates, an explanation of the work, products to be used and a timeline for project completion.
To minimize inconvenience to you during a decorating project we focus on completing one room at a time, so that when you come home you can enjoy a beautifully transformed, functional space—we will take responsibility for protecting, moving and replacing your furniture, washing your windows and floors and reinstalling your drapery or blinds, so that your space is impeccably refreshed.
PROFESSIONAL OTTAWA PAINTING AND RENOVATIONS
Our commitment to you is one of professionalism and total satisfaction. We use only the highest quality, environmentally-friendly products and employ skilled, experienced trades. We work with many of Ottawa's leading interior designers and decorators and can provide you with contacts to help you with colour consultations, window treatments and design recommendations. Please visit the customer references section of this site to learn more about what our customers saying about us.
FREE ONE HOUR COLOUR CONSULTATION WITH AN INTERIOR DESIGNER WHEN YOU BOOK WITH US
We will apply as many paint colours as you decide you need to achieve your interior decorating vision.  If you would like some help picking colours to best suit your decor then take advantage of the free one hour colour consultation with a professional interior designer.  This offer is exclusively available to our customers to ensure your full satisfaction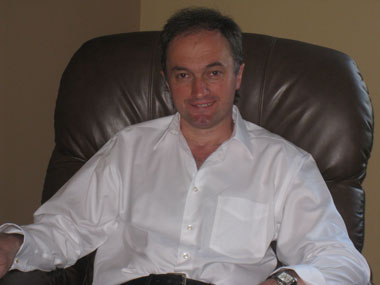 Corrado Abretti
President
"I am committed to delivering the highest quality painting and renovation services in Ottawa at affordable, competitive prices. It would be a pleasure to meet with you to discuss your decorating vision.  Please give me a call at 613-769-7002 so we can discuss your requirements."
"WON NATIONAL AWARDS"
"As an Interior Decorator, I have often used Abretti Painting and Renovations' services for painting, cabinetry and renovations.  Three of our projects together have won national awards from the Canadian Decorators' Association.  I am very pleased with the quality of the work, and their willingness to get all the details correct.  I would definitely recommend this company."
Call us for a Free Painting Quote at 613-769-7002